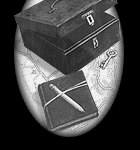 WALLPAPERS
The wallpapers here come in two sizes, for the 800*600 and for 1024*768 desktops. If you encounter some technical problems with the downloaded files, you can write directly to me at the Camden House Telegraph Office.

The wallpapers are packed in self-extracting achives. Download them to your hard drive and double-click them, they should be extracted automatically to your C:\WINDOWS directory. You have to manually change the settings of your desktop - you know the routine.
THE ROYAL FAMILY
Queen Victoria, her son Edward, Prince of Wales, the later King Edward VII, her grandson, the later King George V, and his 5 years old son (King Edward VIII-the one who abdicated). Photographed 1900.
ROYAL_8.EXE [117 kB]
400*600 pixels, for the 800*600 desktop (15")

ROYAL_10.EXE [162 kB]
512*768 pixels, for the 1024*768 resolution (17")
WESTMINSTER BRIDGE

MAP OF LONDON


SET II, by Wens

1. One of the first ones I made. The words are from the Bananarama song, "Move in my direction." I don't know; it just seemed to fit. Is this a Holmes/Irene pairing? Nah. But, she is The Woman, nonetheless. 2. The Holmes Brothers. The world isn't just at their feet; it's their freakin' oyster. 3. Fangirl candy. 4. Omne ignotum pro magnifico. 5. W: Tee hee. H: Oh, shut up! 6. Good old Watson. 7. Okay, so I loved the DVD setup for A Hard Day's Night