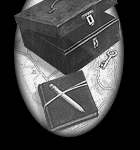 SCREENSAVERS

The screensavers are easy to install and completely free. Download and double-click them. They will be installed automatically onto your system as your default screen saver.
Only for Win95/98/NT.



VICTORIAN LONDON



LONDON.EXE [1.27 MB]
Turn-of-the-century London is depicted in this screensaver, with photographs of places Sherlock Holmes and Dr. Watson saw on their day-to-day adventures in the Great Metropolis. These 22 photographs are from the period 1870-1920, and include scenes of Fleet Street and St. Paul's Cathedral, the Royal Family (c.1900), Tower Bridge and much more. Step into a hansom cab and drive on into the world of Holmes and Watson.

SOUNDS
If you like a talking computer, you can create your own sound mix from the 130 sounds in the Phonotheca Holmesiana. Most are recorded (more or less) with the capability for use as Windows sounds. The possibilities are endless.

Here are some suggestions:
Critical stop
"All is lost."
The King of Bohemia
"Oh, dear! That is very bad!"
Sherlock Holmes
"Terrible, terrible!"
Dr. Watson
Default sound
"Hello!"
Sherlock Holmes
"By Jove!"
Sherlock Holmes
Exclamation
"Dear me! What was that?"
Sherlock Holmes
"Great Heavens, Holmes!"
Dr. Watson
Exit Windows
"And once again Mr. Sherlock Holmes is free to devote his life to examining those interesting little problems which the complexity of human life so plentifully presents."
Sherlock Holmes
"Come, Holmes, we have to go."
Dr. Watson
New mail notification
"A telegram for you Mr. Holmes!"
Mrs. Hudson
"There is a telegram for you, Holmes."
Dr. Watson
Program error
"Yeah, sorry about that, but the law is the law."
Constable
"I will not handle this case."
Sherlock Holmes
Question
"Can I be of assistance?"
Dr. Watson
"Have you any suggestion to make?"
Sherlock Holmes
Start Windows
Granada Open Theme
"A warm welcome to the Red-Headed League!"
Duncan Ross
"It's a great pleasure to see you back in London, Mr. Holmes. "
Inspector Lestrade